By Mike Kowieski, Paid Search Specialist, Advertising Solutions

On Tuesday April 13th, Twitter announced a new advertising program called "Promoted Tweets" in an effort to monetize its impressive and still-growing audience. In March alone, Twitter.com had 22.3 million unique visitors to its site – up from just 524,000 unique visitors in March 2009. And these numbers don't even include the millions more that access Twitter from a third-party application on their Smartphone or desktop through such programs as TweetDeck or Twitteriffic.

Click to see larger image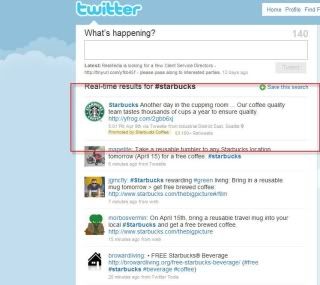 The program is still in its early phases, with only a handful of selected advertisers – Starbucks, Virgin America, Best Buy, Bravo and Red Bull - participating in an early pilot test.

Details are still scarce, but Tuesday's announcement was notable for a number of reasons:

1) Promoted Tweets is search-based. From the New York Times: "[Promoted Tweets] will show up when Twitter users search for keywords that the advertisers have bought to link to their ads. Later, Twitter plans to show promoted posts in the stream of Twitter posts, based on how relevant they might be to a particular user".

2) Relevancy will be rewarded. Again from the New York Times: "Twitter will measure what it calls resonance, which takes into account nine factors, including the number of people who saw the post, the number of people who replied to it or passed it on to their followers, and the number of people who clicked on links. If a post does not reach a certain resonance score, Twitter will no longer show it as a promoted post. That means that the company will not have to pay for it, and users will not see ads they do not find useful."

3) Pricing models are still evolving. In the initial pilot test, advertisers are paying on a traditional CPM (Cost-Per-Thousand Impressions) basis. However, Twitter COO Dick Costolo said that once they have more data regarding how users interact with its ads, "it will figure out alternative ways to charge advertisers." Most likely, Promoted Tweets will give users the option to pay on a CPC (Cost-Per-Click) basis.

Next Steps: Unfortunately, not enough details exist to make firm recommendations around how our clients can leverage Promoted Tweets just yet. Rest assured, your RM team will be keeping a close eye on this developing advertising platform and will be the first to come to you if we believe Promoted Tweets are a good fit for your business.