By Bryson Meunier, Natural Search Associate Director, Content Solutions
Originally Appeared on SearchEngineLand

One of the great things about SEO is the almost scientific way the community approaches the unknown to discover something true that they can apply to their sites. This applied to desktop SEO more than ever in the early 2000s, prior to SEOMoz's first ranking factors study, when pioneers in the field experimented with their web properties to see which changes would drive the most traffic, and eventually conversions.

While this still happens in desktop SEO, I think it happens more now in areas like video, mobile and social SEO, where SEOs are still trying to discover how non-web search behavior and search algorithms change—if they change at all—the practice of building content to drive the most users from search engines. Knowing this, it's understandable that the myth of mobile sites as duplicate content has persisted the way it has, in spite of the evidence to the contrary.

For those unfamiliar with the concept, mobile SEO experts, who are often experts in desktop SEO who apply the same concepts to the mobile web, often say that mobile web sites should be considered duplicate content and should be blocked from being indexed by the desktop bot, while desktop versions of sites should be blocked from being indexed by the mobile bot. As with duplicate content recommendations in general, the gist is that web site owners need to indicate which site is relevant to which bot to avoid having the wrong content suppressed when someone does a relevant search, or to avoid splitting your link popularity on what is essentially a duplicate version of your canonical page.

Makes sense in theory. Here's where it falls apart.

If you enter the query [facebook mobile] on the desktop version of Google, on something other than a mobile device, you get m.facebook.com as the first result. The same thing happens when you look for the mobile version of the other nine of Nielsen's top ten mobile web sites of 2009. In every case both the mobile and desktop versions of each web site are indexed in the "web" index, and they're returned when a user enters relevant queries. They're not in the supplemental results, and they're not suppressed as duplicate content. They're mobile sites, and they're returned for relevant queries.

Click to see image larger




This phenomenon has been in play for years, so I think the idea that mobile sites are duplicate content is really more myth than reality. It's also unlikely, in my opinion, to change anytime soon, because the search engines, whose modus operandi is to return relevant content for relevant queries, get desktop and smartphone queries for mobile content. If you consider some of the top navigational queries for the top ten Nielsen mobile sites of 2009, you can see this phenomenon in action.

Click to see image larger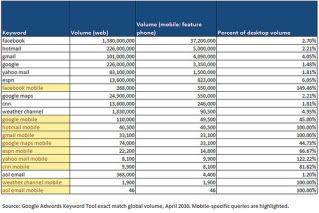 The query [facebook mobile], to use the same example, gets about 368,000 queries per month from users of desktops (and presumably smartphones) according to Google keyword data. If Google were to show the desktop site for this query just because the user was querying the search engine that used the desktop index, Google would not be showing relevant content for the query, and would not last very long as a search engine that people continued to find useful. This is really a key difference from most types of desktop duplicate content, where a user is unlikely to request the variations of content that Google and other engines classify as duplicates. Can you imagine someone searching for a specific session id page or a non-www version of a page? Let alone 368,000 of them per month? If the search engines relegated desktop content to the desktop index and mobile sites to the mobile index, they would not be able to return relevant content for relevant queries.

Knowing that search engines index and return mobile content for relevant queries, and that they have blended mobile ranking algorithms to rank mobile content for mobile queries and desktop content for desktop queries, it's clear to me that they don't treat mobile sites like traditional desktop duplicate content. Knowing this, it's a wonder that many mobile SEO experts, including some whose opinions I generally respect, would continue to recommend blocking your mobile site from Googlebot and other "web" crawlers.

If you want maximum visibility for your mobile content, and to be truly optimized for mobile search, the best practice is to make it clear to the engines that you have a mobile site, optimize it for mobile queries and make it essential to mobile users, and then trust the engines to return it when they think it's relevant. Don't block the mobile site from being returned in desktop or smartphone results, as it's relevant to more than just the search engine's mobile index.

To be fair, the search engines are in part to blame for this oft-recommended worst practice, as they have at one point called a certain type of mobile content duplicate content. Prior to the iPhone's release, back when mobile content was something very different than it can be today, the Google webmaster Central blog called out "forums that generate both regular and stripped-down mobile-targeted pages" as duplicate content. In spite of this, they have never (to my knowledge) recommended that you block all mobile content from desktop bots—only that you redirect mobile users properly if you choose to redirect them and that you block carrier-specific mobile content, which they do consider duplicate content.

This last recommendation has since been removed from Google's mobile webmaster guidelines, so I can't link out to it, unfortunately. Maybe someday Google and other engines will explain this in a way that is in accordance with their search results, but for now the way to get most visibility to your mobile content is to let it be returned by both mobile and desktop search.

If you really want to be optimized for mobile search, get out of the mindset that mobile content should even be considered duplicate content. Granted, most sites are going to have smaller versions of their desktop content on their mobile sites, but if that's all you have you're not taking advantage of the unique properties of the mobile user experience.

At SMX West this past March, Microsoft CEO Steve Ballmer talked about a new class of mobile-specific queries, and Google Analytics guru Avinash Kaushik talked about serving a mobile search experience with the Nexus One that most marketers haven't even begun to consider. Chances are, if you're only presenting your desktop content in a new format and excluding it from the web search engines, you're not considering the mobile user either, and probably aren't optimized for mobile search.