by Aaron Goldman, VP Marketing & Strategic Partnerships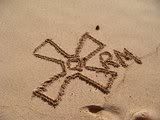 The power of the Resolution Media QueryMatrix is spreading across the world. Its familiar form was recently spotted on the beaches of Bali.
No, this wasn't some kind of Stonehenge supernatural thing -- Dan Kuthy, Account Strategist extraordinaire, planted it. So, while not a freak occurrence, it's still a beautiful sight to behold.
Wonder if this will touch off a little activity of sorts -- Travelocity Roaming Gnome-style. With the QueryMatrix, you'll never search alone.
Where will the QMx take you?