By Brooke Nichols
This week, I had the pleasure of attending the World Trade Group's Global Marketing Summit held in Myrtle Beach, SC with my fellow RM'er, Aaron Goldman. This was Aaron's second year attending the event, but it was my first trip to both South Carolina and a WTG conference. Our reasons for heading south were three-fold; to learn what we could from fellow marketing masterminds of various media, to spread the Search word, and, of course, to try and drum up some new business.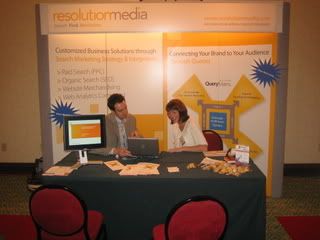 The conference provided a broad scope of marketing insights from traditional advertising to mobile to gaming. Some of the key topics covered included:
- Shifting from traditional marketing to online media
- Measuring return on marketing investment
- Building and maintaining brand image and equity
- Innovative strategies for attracting and retaining customers
- Social networking and virtual world marketing

That's a lot to cover in two days and there's no way I could begin to disseminate the takeaways from each session, but I'd like to provide some of the main points that hit home for me. These are taken from multiple sessions from different media, but I think they ring true for all marketers.

"Know who you are, create who you want to be." – Dennis Dunlap, CEO, American Marketing Association
Take the time to identify your brand and what it means both internally and externally. Use that information to grow and strengthen not only the brand, but the organization as well.

"If it's not relevant, you're spending money to hurt your brand." – Juan Alfonso, Vice President, Marketing, ESPN International
When consumers search for a particular service or product that you provide and are taken to any piece of content – whether it be a product description, video, article, or other – they want to be provided with relevant content. Otherwise, they won't be likely to go down your path again. This is particularly true with Search marketing inititatives.

"Benchmarking is just the act of identifying who the leader is and trying to be more like them." – Dodie Subler, Founding Partner, Tait Subler
Differentiation was a common topic throughout most of the conference sessions. By differentiating your brand, you're really building a stronger brand than those of your competition. In Search, the more you know how to reach your consumers and deliver a holistic brand experience, the more you set yourself apart from the competition. Take advantage of the long tail queries, and customize your copy & landing pages – this will help differentiate your brand.

"You don't have to touch it to feel it." – Erik Hauser, Founder & Creative Director, Swivel Media
After taking the audience through an image-induced emotional roller coaster ride, the message hit home that you don't have to touch a consumer to create a connection. Nowadays, successful brands have realized that they must induce an emotional reaction to create brand loyalty – and you can't do this with mere bombardment on all media platforms. If you get it right, they'll find you (most likely through searching).

Clearly, these lessons can be applied to any means of driving successful marketing practices and building strong brand relationships. So, while search was not the main driver of the conference, attendees readily agreed that it's a key component of the mix and it can activate many of these best practices.